The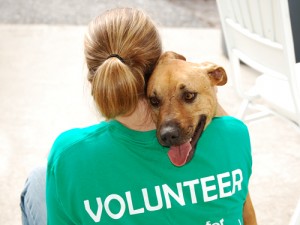 Northern Lights Regional Humane Society is always looking for Volunteers to help out in some way. As a not-for-profit organization we find ourselves looking to Volunteers as an IMPORTANT part of the successful operation of our facility and programs.
If you want to make a difference in the lives of the animals in our care, we NEED and WANT your help. Whether you are comfortable around animals or not, we have a job for you. May you volunteer weekly or only once or twice a year, we appreciate whatever spare time you are able to commit!
Volunteering is great for people of all ages. Whether you're a student, stay at home mom, or a retired person who wants to get out and about for a few hours a week, we need your expertise and your help.
INTERESTED IN WORKING WITH ANIMALS?
Whether you prefer to walk dogs or cuddle with our cats we need your help. To volunteer with us please come down anytime to fill out a Volunteer Form and set up an orientation.
OTHER WAYS TO HELP THE SPCA ANIMALS
Working with the NLRHS animals is rewarding, but we are in desperate need for volunteers to help in other ways.
Animal Care– Help with kennel cleaning and dishes
Foster Care– Provide care for animals as they wait for their forever homes by providing  a temporary home to a pet as they recover from health issues/injury, need socialization, or just need time to grow (puppies or kittens with or without mothers)
Fundraising–  Help out at various events including: Newfie Night, Annual Mutt Strut, Raffles, Trade Show, etc.
Dog Walking– Take our guest dogs out for a walk – providing daily exercise and enrichment
Vet Runs– Take animals that are in need of medical care to the vet clinics
Volunteer Co-ordinator
Fundraising Co-ordinator
Please contact the Northern Lights Regional Humane Society if you have any questions or would like to volunteer – phone 780-926-5520 or email nlhs@live.ca