DOGS AVAILABLE FOR ADOPTION
We have a great group of dogs looking for their forever families and homes. Our volunteers are dedicated to matching the needs and personality of our dogs with your family. We want to make sure the match is perfect. Things to consider when adopting are: Time (walks, training), Patience, budget (food, spay, vaccinations, etc), and Space (home, fenced yard).
Listed as Adoption Pending?  This means there has been an application submitted for the dog already. You can still submit an application, however please note there is someone ahead of you.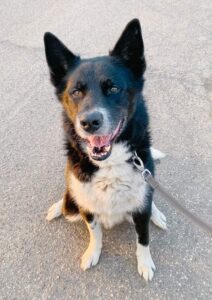 Name: POE (M)
Breed: Large Mixed Breed
Age: 9 years
Colour: Black w/White
Arrived: July 5th, 2021
This gentle giant is Poe. Don't let his age fool you, he has a lots of love to give and is always ready for an adventure. He is the kind of dog that will keep up with you on lots of walks and hikes, but doesn't mind settling in for some pets and attention after some exploring. Poe isn't a fan of his time in a kennel he is very vocal about it. He just wants to run and be free. A high fenced yard or large pen is a must for this handsome boy. Poe seems to get along with the other dogs in the shelter, but we always suggest a meet and greet. We aren't aware of any interactions with cats or livestock so we are unsure how he would react. Poe is sensitive about people touching his ears and paws. Because of this we recommend a home with older children who will understand his quirks and preferences. Poe is a very smart and well mannered boy. He's also a listener, loves being brushed and goes straight to his kennel at bed time. Enjoy going for walks? So does Poe! Once he has his harness and leash on, he's ready to go. This handsome boy needs a family that can be gentle, patient and understanding with him as he adapts to his new surroundings. If Poe sounds like your dog, stop.in and meet him today. Poe is vet checked, up to date on vaccines and dewormed. He will be fixed and microchipped prior to being adopted.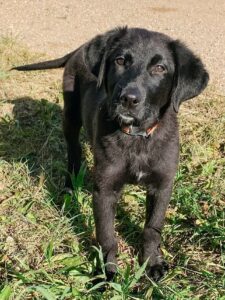 Name: PHOEBE (F) – Adoption Pending 
Breed: Lab X
Age: 10 weeks approx. (June 15th)
Arrived: August 10th, 2021
Meet Phoebe, a young energetic girl who has lots of love to give. Being a young pup, Phoebe is going to need a home and family that has time and patience to teach her basic training as she has lots to learn. Phoebe loves to chase the ball and sometimes she even brings it back! She is cautious at first, but in no time, she will be looking for her spot next to you on the couch. Phoebe good with other dogs and enjoys having a friend to wrestle and play chase with. She is curious around cats, and with a proper introduction we are certain they could be friends. She is also great with kids and would make a great addition to any family. Phoebe cant wait to find a home to live, learn and grow in. If you're the family Phoebe is looking for stop in and meet her today! Phoebe is vet checked, up to date on vaccines and dewormed. She will be microchipped prior to being adopted.