DOGS AVAILABLE FOR ADOPTION
We have a great group of dogs looking for their forever families and homes. Our volunteers are dedicated to matching the needs and personality of our dogs with your family. We want to make sure the match is perfect. Things to consider when adopting are: Time (walks, training), Patience, budget (food, spay, vaccinations, etc), and Space (home, fenced yard).
Listed as Adoption Pending?  This means there has been an application submitted for the dog already. You can still submit an application, however please note there is someone ahead of you.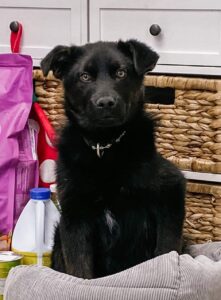 Name: BOOMER (M)
Breed: Mixed Breed
Age: 4-5 months
Arrived: December 6th, 2021
Meet Boomer! Not only is he super cute, but he's also super smart and eager to please. Boomer can sit and shake a paw all while giving you the most adorable puppy dog eyes. Boomer is still a young pup and has lots of learning to do. He is looking for a home and family that has time and patience to teach him basic training and how to be on his best behaviour. New to being on a leash, Boomer was a little confused when he was first clipped on, but as soon as he was outside he was running and chasing the kids through the snow. Boomer adores kids and would make the perfect addition to any family. with a proper introduction, Boomer would enjoy having a friend to play with. Are you ready to spoil Boomer with some of his favourite things – lots of toys, a nice warm blanket and lots of love? If so, call 780-926-5520 to arrange a meet and greet. Boomer is vet checked, up to date on vaccines, dewormed and will be microchipped prior to being adopted.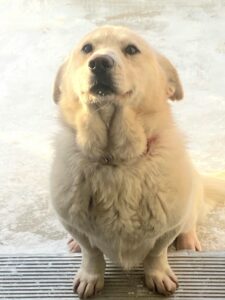 Name: TINY (M)
Breed: Medium Mixed Breed
Age: Approx. 4 years
Arrived: December 4th, 2021

You might think you're looking at a seal pup, but nope, it's Tiny! He is such a sweet boy. Tiny was previously an outdoor only dog, but he is adjusting to and enjoying life inside just fine. He is cautious of strangers and takes things slow, but once he's warmed up he loves all the affection. He also loves chewing on big tasty bones and would love if his new home had some for him. Tiny is working on his listening skills. He is smart and listens better when a treat is involved as he is food motivated. Guess what we are trying to say is Tiny likes all the good stuff and treats or food is clearly the way to his heart! We were told that Tiny does not get along with other dogs, but he did live with two others. Due to Tiny's love of food, and not wanting others near it, they did get into a few tiffs. Tinys recommended home is one with no dogs and one that has older children that can understand his needs. Unfortunately we do not know how he is with cats. If you'd like to visit this handsome short legged adorable boy, give us a call to set up a time. He's sure to steal your heart! Tiny is vet checked, up to date on vaccines, dewormed and will be neutered and microchipped prior to being adopted.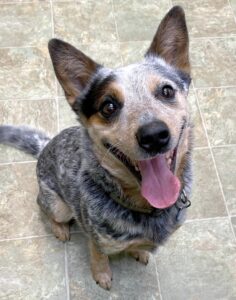 Name: COOPER (M)
Breed: Blue Heeler X
Age: 5 ½ years
Colour: Blue Merle
Arrived on: December 23rd, 2021

Meet Cooper! Cooper is a handsome boy who hopes his forever family won't keep him waiting long. Weighing in at just under 40 pounds, he is the perfect size. Cuddles, playing fetch, patrolling his area and playing hide and seek are some of his favourite activities! One of his not so favourite activities is having his nails trimmed. And smart – this guy knows his stuff! Cooper's previous home told us he is good with both verbal and non-verbal commands. He knows that the leash will go on, the food dish will be filled or the door will open after he sits. He is kennel trained and knows that the word 'house' means go to his kennel, and that lay down, means go to his bed. We were also told he will not approach the table when his humans are eating, but if needed and directed he will go lay down. His secret weapon – Cooper will stand and twirl for his treat! His adopters should be familiar with the traits of herding breeds and any children in the home must be 10 and up. Cooper is house trained, is good with being left alone, does well off leash, has good eating habits and enjoys car rides. A few items Cooper needs to continue working on is jumping when excited, licking, and mouthing. It is unknown how Cooper would react around cats or livestock. He is not good with male dogs and is unsure about sharing valued items such as toys with other dogs. An active family would be ideal for Cooper – he would make an excellent walking, hiking or running partner and would love to join along on family camping trips. Does Cooper sound like a great addition to your family? Cooper is vet checked, up to date on vaccines, neutered and ready to start his new chapter. He will microchipped prior to adoption.