CATS AVAILABLE FOR ADOPTION
Find your purrrrfect cat companion! We have a great group of cats looking for their forever families and homes. Our staff is dedicated to matching the needs and personality of our cats with your family. We want to make sure the match is perfect for everyone.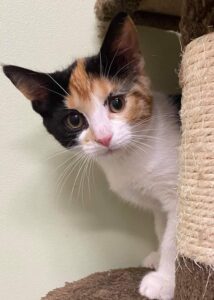 Name: GIDGET (F)
Breed: DSH
Age: 4 months
Arrived: July 22th, 2021
Meet Gidget! Gidget is not only a beautiful cat, she has a sparkling personality. She is fearless and will climb as high as she can in the cat playhouse. She loves to play with all the cat toys, there all so FUN! Gidget is unsure of dogs, but would likely adjust to another cat home. Does this beautiful girl sound like the one for you? Gidget is vet checked, up to date on vaccines and dewormed.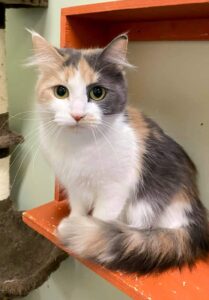 Name: FLUFFY (F) – Adoption Pending
Breed: DMH
Age: 2 years
Arrived: July 30th, 2021
It took us a bit of time to get to know this beautiful girl, but she finally started opening up to us. Fluffy is still a little scared, though she is happy to poke her head out for scratches and pets. We are told Fluffy is a playful and affectionate kitty when she is comfortable in her home and around her people. Fluffy is unsure of dogs and other cats. She does like kids and wouldn't mind snuggling up on the bed with them. One of her favourite things to play with is a ponytail, she enjoys bating it around the house. If you think you can give Fluffy the loving home she deserves, stop by and meet her today. Fluffy is vet checked, up to date in vaccines and dewormed. She will be spayed and microchipped prior to adoption.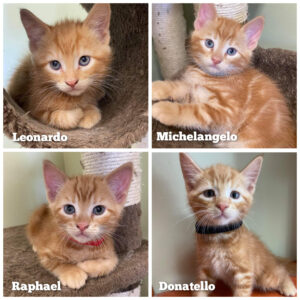 Name:  MICHELANGELO (M) – ADOPTED!
            RAPHAEL (M)
            DONATELLO (M)
            LEONARDO (M)
Breed: DSH, Orange Tabby
Born: July 10th, 2021
Arrived: August 20th, 2021
Meet our little heroes that keep everyone under their watch safe – Michelangelo, Raphael, Donatello and Leonardo. Despite their action packed day job, they have a soft side and are snugly kittens. They are smart, use the litter box and love to climb. They do enjoy each others company and would enjoy if they had a friend in their new homes. They are learning and socializing with dogs as they are always stopping in for a visit and some of their favourite things to do are wrestle, climb and nap. A nice big cat tree to play on would make these boys more than happy. What are you waiting for? Stop in and meet us today! We aren't kitten when we say you're going to fall in love! Raphael, Leonardo, Donatello and Michelangelo are vet checked, up to date on vaccines and dewormed. Each will be microchipped prior to being adopted.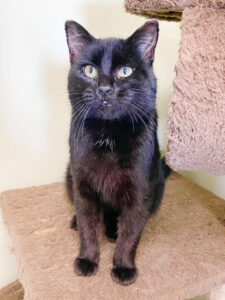 Name: VENOM (M)
Breed: DSH
Age: 1 year
Arrived: August 17th, 2021
Venom's name may sound intimidating, but this handsome guy is as sweet as pie! Venom is a friendly and playful guy. He seems to like the other cats and dogs here in the shelter. Venom has an old injury on his face, however, it's healed up and does not affect him. He isn't a big fan of being held and likes to spend the days napping. When he isn't doing that, he is watching everything going on outside the window and exploring his surroundings. Come down and meet this guy, he has the most adorable kitty smile. Venom is litter trained, up to date on vaccines, vet checked, dewormed and will be microchipped and neutered prior to his adoption.