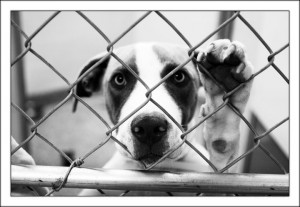 Help Northern Lights Regional Humane Society care for the many animals we rescue each year while they wait for their new life-long home by sponsoring a kennel!
NLRHS's Kennel Sponsorship program provides a great opportunity for families, private organizations, and businesses to directly support the animals we rescue. Individuals, groups, or companies can "adopt" a small or large kennel for 12 months, and your contribution will help ensure that each animal housed at the NLRHS facility receives nourishment, shelter, and medical care for as long as it takes to find their forever home.
In return for your Kennel Sponsorship, not only will you receive the reward of knowing you helped animals in need, but an acknowledgment plaque will be placed on the kennel door that you have sponsored. You will also receive recognition on the Donors page of the NLRHS website and a charitable donation receipt.
Sponsorship  fees are as follows:

$250 Dog Kennel Sponsorship for 1 year
$150 Cat Condo Sponsorship for 1 year
You will have the opportunity to maintain your kennel sponsorship for as long as you choose. Renewals occur on an annual basis and you will receive a reminder letter before your sponsorship expires.
Purchase this sponsorship using one of the methods below:
Alternatively, your donation may be mailed with a Kennel Sponsor Form to:
Northern Lights Regional Humane Society
Box 481, High Level, AB T0H 1Z0