CATS AVAILABLE FOR ADOPTION
Find your purrrrfect cat companion! We have a great group of cats looking for their forever families and homes. Our staff is dedicated to matching the needs and personality of our cats with your family. We want to make sure the match is perfect for everyone.

Name:
CLOVER
(F)             
PADDY
(M)
Breed: DSH

Colour: White/Grey Mix
Age: 9 weeks (May 19th)
Arrived: May 6th, 2020
Our names are Clover and Paddy! We were born on St. Patrick's Day and thanks to some caring strangers who took in our mom, we were born in a nice warm home. We are enjoying our time here, we get to play all the time and the treats are tasty, but we're looking for bigger and better. It's a little cramped in our condo and I can't get away from Paddy to enjoy my treats. He just barrels in like he found the pot of gold at the end of the rainbow and gobbles them up. We enjoy kids and with a proper introduction we could be friends with dogs too, but only the nice ones. If you think you can keep up with us, give the shelter a call to make arrangements to meet us. Paddy and Clover are litter trained, up to date on vaccines, vet checked and will be microchipped prior to adoption.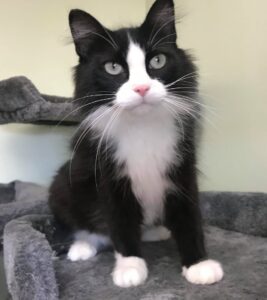 Name:
LUCY
(F)
Breed: DMH
Age: Approx. 1 year

Colour: Tuxedo
Arrived on: May 6th, 2020

My name is Lucy! I was looking for a nice warm place during the frigid temperatures this past winter and lucky for me, a nice family took me in. However I had a surprise for them, I had four babies not long after my arrival. I thank them every day for giving us a warm place to stay. They looked after me and my babies until they were old enough to look for homes of their own. My two babies, Paddy and Clover, are here at the shelter with me. They are good little ones, but it's time for them to move on. Always "meow meow meow" aka mom mom mom". We would all like to find a place to call our own. I enjoy pets and cuddles, but not for long and am litter trained. If you can give me a home please call the shelter and make arrangements for us to meet. Lucy has been vet checked, is up to date on vaccines, dewormed and will be spayed and micrchipped prior to being adopted.