CATS AVAILABLE FOR ADOPTION
Find your purrrrfect cat companion! We have a great group of cats looking for their forever families and homes. Our staff is dedicated to matching the needs and personality of our cats with your family. We want to make sure the match is perfect for everyone.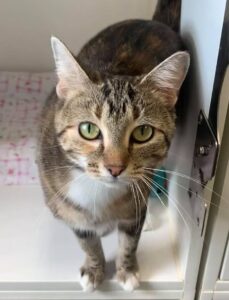 Name: FRITO (F) – Adoption Pending
Breed: DSH
Age: 1 year approx.
Colour: Calico Tabby
Arrived: February 18, 2021
Meet Frito! Frito is a sweet girl who came to us with a litter on the way. How that all her kittens have moved on, it's her turn! Frito's foster family tell us she is very quiet, enjoys human companionship and is extremely affectionate. If she's sleepy and you pull her into your lap she will hunker down and cuddle up. Frito is energetic, feisty and playful. Ambushing from inside a paper bag and boxing other cats are some of her favourite sports. She enjoys being around cats that would enjoy similar activities and have similar outgoing personalities. She is truly a lovely cat and can't wait to find the purrrfect forever home. Frito's is vet checked, up to date on vaccines, dewormed, spayed and will be microchipped.