CATS AVAILABLE FOR ADOPTION
Find your purrrrfect cat companion! We have a great group of cats looking for their forever families and homes. Our volunteers are dedicated to matching the needs and personality of our cats with your family. We want to make sure the match is perfect for everyone.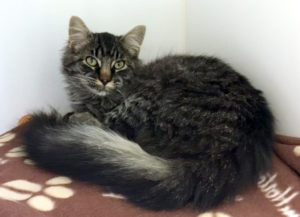 Name: WILLOW (M)
Breed: Domestic Medium Hair
Colour: Tabby
Age: 1 Year
Arrived:  October 17th, 2017
Meet Willow! This handsome boy is looking for a family to call his own. If you're in search for a pet to keep you company look no further; this chatty guy might be your perfect companion. Willow has many different meows to let you know when he wants food, attention or to be loved on. The only quirks we've found with Willow is he doesn't really like traveling or being picked up. Willow is up to date on vaccinations, dewormed, litter trained, and will be microchipped and neutered before going home. Come meet Willow today!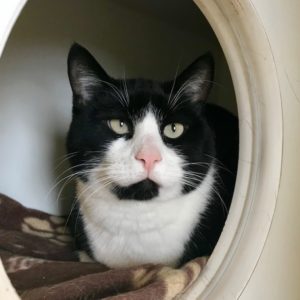 Name: HANK (M)  
Breed: DSH
Colour: Tuxedo
Age: 2 years
Arrived: December 19th, 2017
Meet Hank! This mellow guy is looking for his forever home. Hank is a "den cat" who loves to spend his days napping in his kennel cubby. He prefers a cozy hiding spot rather than an open bed. Hank loves attention and will come out of his den for cuddles. Hank has a funny meow that's more of a squeak but it's pretty darn cute. Hank is very easy to handle compared to his friend Viper. He has no issues with traveling and vet visits. Hank has not been tested with dogs. Hank is up to date on vaccines and will be neutered and micro chipped prior to joining his new home.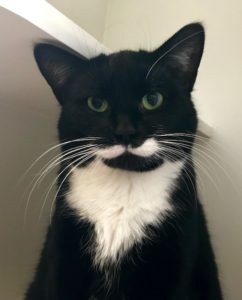 Name: CATALYN (F)
Breed: DSH
Colour: Tuxedo…
Age: 2 years approx.
Arrived: Jan 4, 2018
Meet Catalyn! This pretty girl is looking for her forever home. With her lovely green eyes, big whiskers and mustache marking she's quite the looker. She's easy to handle and loves being brushed. Catalyn is not good with other cats and will slap dogs who come up to her too quickly. Catalyn is up to date on vaccines and will be spayed and micro chipped prior to joining her new home. If you have a loving home to share with Catalyn, come meet her today!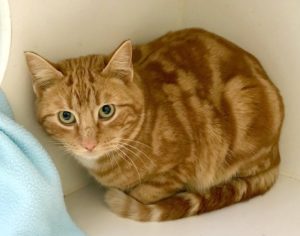 Name: LUCKY (M) – Adoption Pending 
Breed: DSH
Colour: Orange Tabby
Age:  1.5 years
Arrived: February 2nd, 2018
Meet Lucky! This guy his looking for his forever home. Lucky is looking for a home that he can roam around outside and mice. He is good with other dogs and cats but we are unsure with how he would react with kids. He came from a home where he was outside so coming inside has taken some getting used to. He is shy at first but with some love he starts to purr. Lucky is up to date on shots, neutered and dewormed. Come meet him today!

Name: TIPPY (F)  
Breed: DSH
Colour: Black
Age:  Approx. 8 weeks
Arrived: June 13th, 2018
Meet Tippy! This feisty little munchkin is ready to join her new family. Pick her up for cuddles and listen to her purr engine go! Tippy exhibits no fear and is very adventurous. If you think this little mayhem-maker is the right fit for your family, visit the shelter for a meet and greet today! You're guaranteed to be captivated. Tippy is up to date on vaccines, has been vet checked and will be micro chipped prior to adoption.