CATS AVAILABLE FOR ADOPTION
Find your purrrrfect cat companion! We have a great group of cats looking for their forever families and homes. Our volunteers are dedicated to matching the needs and personality of our cats with your family. We want to make sure the match is perfect for everyone.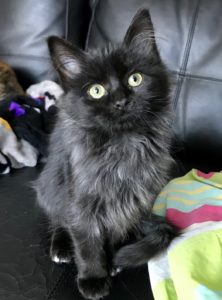 Name: RUNTY (F)
Breed: DLH
Colour: Black
Age: Approx. 9 months (March)
Arrived: June 27th, 2018
Meet Runty! Runty is one if the most stubborn and persistent cats! "Where there's a will there's a way" is the perfect mantra for this kitten. She can't get on the couch, but will come and scratch on your leg when she wants up for cuddles or a nap. Runty loves to be brushed and her long hair is finally starting to come in so she looks cute and a little scraggly right now. Runty likes to be under your feet all the time and because she's so tiny, her foster home has been getting good at shuffling around the house because don't want to step on her. Runty is healthy, but due to her small frame, she would like a home with no young children or hyper dogs/cats as they don't know their own strength and would be too rough on her. Runty is up to date on vaccines and ready to meet her new family!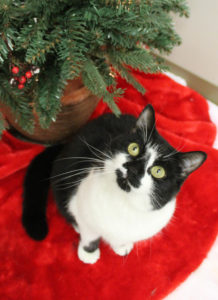 Name: BRIA (F)
Breed: DSH
Age: 3 years
Colour: Black/White
Arrived: September 18th, 2018
Meet Bria! This unique girl is looking for her forever home. Bria loves human attention but does not like other cats or dogs. Bria is litter trained and will spend hours cuddled up next to you if you will allow her. She has a great temperament and will do good in a home with or without children. Bria will come spayed, microchipped and up to date on vaccinations prior to adoption! Stop into the shelter and meet Bria today!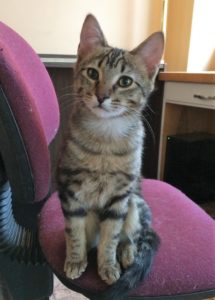 Name: AUTUMN (F)
Breed: DMH
Age:  10 Weeks (Dec 19)
Colour: Tabby
Arrived: December 5th, 2018
This adventurous little boy has an outgoing disposition and despite his energy he is still cuddly – ok with being picked up and held. He will rest his chin on your hand when tired. He does well with his older foster brother in the house, although the older fellow hisses and carries on. Autumn will be vet checked, up to date on vaccines, dewormed, microchipped and spayed prior to being adopted!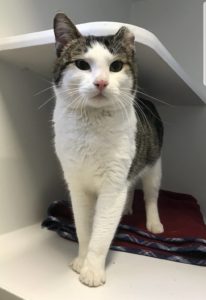 Name: FROSTY (M)
Breed: DSH Tabby X
Age: Approx. 7-8 months
Colour: White/Tabby
Arrived: December 23rd, 2018
Meet Frosty! Frosty is a pretty unique guy, he is missing the tip of one of his ears most likely due to it freezing. He was found in a snow bank very cold and very hungry and is now warm and always looking for a refill on his food. Frosty is a playful guy and independent boy who seeks affection on his terms. His past may have been a bit rough, but everyday he shows us just how much he wants to be loved. Frosty will be neutered, vet checked, microchipped, and will be up-to-date on all his vaccines. Come meet Frosty today, give him the chance to know what living in a home is all about.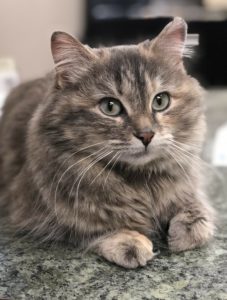 Name: HARLOW (F)
Breed: DLH
Colour: Dilute Calico 
Age: 1 Year 
Arrived: March 12th, 2019
Harlow is such a sweetheart – after a bit of playtime, this sweetie is happy to relax with you. She is very affectionate and likes nothing better than being by your side. Harlow isn't sure about other cats, but she may have a change of heart with a slow introduction and once she settles into to her new home. She is fearful of dogs, so a home without dogs is recommended.  Harlow is vet checked, up to date on vaccines and will be spayed and microchipped prior to being adopted.  If a quiet, sweet and beautiful cat is what you are looking for then Harlow is the perfect girl! Come meet her today!