CATS AVAILABLE FOR ADOPTION
Find your purrrrfect cat companion! We have a great group of cats looking for their forever families and homes. Our volunteers are dedicated to matching the needs and personality of our cats with your family. We want to make sure the match is perfect for everyone.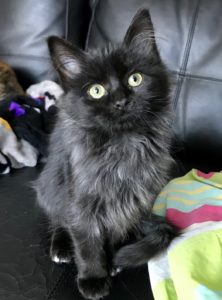 Name: RUNTY (F)

Breed: DLH
Colour: Black
Age: Approx. 6 months (December)
Arrived: June 27th, 2018
Meet Runty! Runty is one if the most stubborn and persistent cats! "Where there's a will there's a way" is the perfect mantra for this kitten. She can't get on the couch, but will come and scratch on your leg when she wants up for cuddles or a nap. Runty loves to be brushed and her long hair is finally starting to come in so she looks cute and a little scraggly right now. Runty likes to be under your feet all the time and because she's so tiny, her foster home has been getting good at shuffling around the house because don't want to step on her. Runty is healthy, but due to her small frame, she would like a home with no young children or hyper dogs/cats as they don't know their own strength and would be too rough on her. Runty is up to date on vaccines and ready to meet her new family!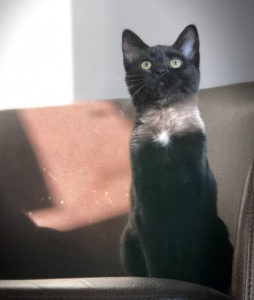 Name: SHORTY (F)
Breed: DMH
Colour: Black
Age: Approx. 6 months (December)
Arrived: June 27th, 2018
Meet Shorty! Shorty is a bit rowdy and loves to follow her foster brother around and pounce on Finn's (foster brother) tail when he's sleeping. She will only come cuddle when it's her idea and not a fan of being groomed. She would like a home with other pets or children that she can play with. The vet has given Shorty a clean bill of health, but it's highly recommend that her tail is docked at the same time she is spayed so, potential adopters must understand that this will be an added cost. She will look super cute with a little bobcat tail though. Shorty's tail isn't fully healed yet, but she can be adopted out if the adopter knows to keep an eye on it to make sure it continues to heals properly.  Shorty is up to date on vaccines and ready for adoption!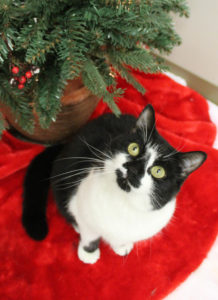 Name: BRIA (F)
Breed: DSH
Age: 3 years
Colour: Black/White
Arrived: September 18th, 2018
Meet Bria! This unique girl is looking for her forever home. Bria loves human attention but does not like other cats or dogs. Bria is litter trained and will spend hours cuddled up next to you if you will allow her. She has a great temperament and will do good in a home with or without children. Bria will come spayed, microchipped and up to date on vaccinations prior to adoption! Stop into the shelter and meet Bria today!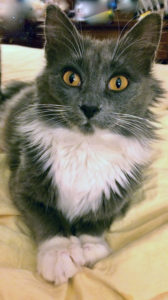 Name: SHADA (F)
Breed: DMH
Age:  Approx. 1 Year
Colour: Grey/White
Arrived: December 5th, 2018
Meet Shada! This beautiful and loving young mother looks after her kittens with great concern despite the fact that she is less than a year old. Shada is extremely friendly and affectionate, talking in little chirps and cozying up against her people. She is always on the lookout for her kittens and no doubt will become more relaxed once they are independent. She is very laid back with her older foster brother, although he is not a fan. Shada will be vet checked, up to date on vaccines, dewormed, microchipped and spayed prior to being adopted!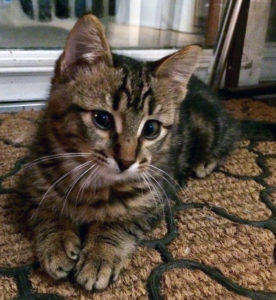 Name: AUTUMN (F)
Breed: DMH
Age:  10 Weeks (Dec 19)
Colour: Tabby
Arrived: December 5th, 2018
This adventurous little boy (approx. 8 weeks old) has an outgoing disposition and despite his energy he is still cuddly – ok with being picked up and held. He will rest his chin on your hand when tired. He does well with his older foster brother in the house, although the older fellow hisses and carries on. Autumn will be vet checked, up to date on vaccines, dewormed, microchipped and spayed prior to being adopted!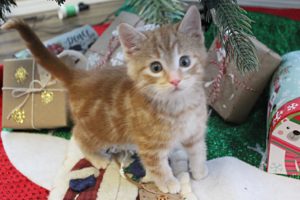 Name: BEASTLY (M) – Adoption Pending
Breed: DSH
Colour: Orange Tabby
Age: Approx 10 weeks (Dec 19)
Arrived: November 7th, 2018
Meet Beastly! He is lovingly named for his super outgoing and playful nature! If he is not sleeping, he is full out racing through his foster house. Beastly was found outside the shelter at approx. 4-5 weeks old. He was taken into foster care shortly afterwards. Since then he has grown significantly, and is doing amazing! He loves to wrestle and play, though purrs loudly the entire time. He also loves chasing the adult cats around the house and playing with them in his foster home. He would love to find his forever home!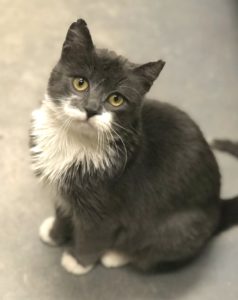 Name: MAYO (M) – Adoption Pending
Breed: DMH
Age: 4-5 months
Colour: Grey and white
Arrived: December 11th, 2018
Meet Mayo! You may remember his crazy story. He was brought into the fire station here in High Level with his head stuck in a mayo jar, thankfully he was freed with the help of volunteer Firefighters, but then unfortunately got loose in the Fire Hall. Members set a trap and he brought to us the following morning. This guy needed time and constant reassurance as he was terrified of everyone and everything. It took about a week to gain his trust and to let us handle him. We have found that he is a very sweet and affectionate boy that loves to lay in your lap and always wants to be with you. He is still quite fearful and will hiss on occasion when faced with anything new, however with a little patience will reassure him he's ok. Mayo gets along with our other cats in the shelter and has never shown any aggression towards people once he settle after the first week with us. We have fallen in love with his gentle spirit, and willingness to trust after going through something so traumatic. Mayo will come vet checked, microchipped, and be up-to-date on all his vaccines.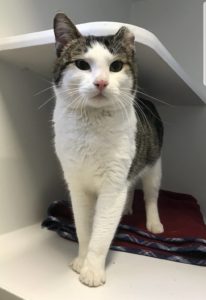 Name: FROSTY (M)
Breed: DSH Tabby X
Age: Approx. 7-8 months
Colour: White/Tabby
Arrived: December 23rd, 2018

Meet Frosty! Frosty is a pretty unique guy, he is missing the tip of one of his ears most likely due to it freezing. He was found in a snowbank very cold and very hungry and is now warm and always looking for a refill on his food. Frosty is a playful guy and independent boy who seeks affection on his terms. His past may have been a bit rough, but everyday he shows us just how much he wants to be loved. Frosty will be neutered, vet checked, microchipped, and will be up-to-date on all his vaccines. Come meet Frosty today, give him the chance to know what living in a home is all about.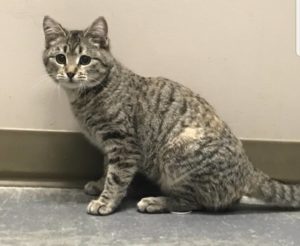 Name: ANNIE (F)
Breed: Tabby
Age: 5 months
Colour: Orange/Tan Tabby
Arrived: December 28th, 2018

Meet Annie! She is a very affectionate girl and always wants to be curled up in your neck. She loves to play and will follow you around wherever you go, she's just a super sweet girl and is full of spunk. So far Annie is not getting along with any of the other cats in the shelter and isn't a fan of dogs. She may do best as the only pet in the house. Annie will be vet checked, microchipped, and will be up-to-date on all her vaccines. Come meet Annie today!