CATS AVAILABLE FOR ADOPTION
Find your purrrrfect cat companion! We have a great group of cats looking for their forever families and homes. Our staff is dedicated to matching the needs and personality of our cats with your family. We want to make sure the match is perfect for everyone.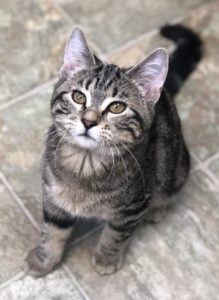 Name: FLARE (F)  
Breed: DSH Tabby X
Age: 3-4 months
Colour: Grey black mix
Arrived: June 2019
Meet Flare! This little girl is a spitfire. Flare, along with her brother were found during the evacuation in May due to the wildfires in our area. She is very spunky and loves to play, she is independent and loves to explore her environment. She gets along great with other cats and would benefit with having some company rather than being in a single cat home. She is young enough that she would adjust to having a dog as a companion as well. Flare is vet checked, dewormed and up to date on her vaccinations. Come on in and meet Flare today.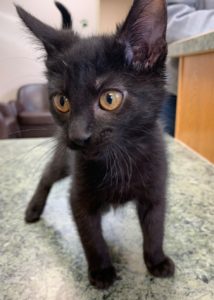 Name:
SPARKY
(M)  –
Adoption Pending
Breed: Tabby X
Age: 3-4 months

Colour: Black
Arrived:  June 2019
Meet handsome Sparky. He is such a sweet little guy, has a milder personality than his sister and loves to cuddle. He was found with his sister Flare during the evacuation. This little one gets along great with other cats and would prefer to have a playmate, he is young so would adjust to a home with a dog easily. Sparky is vet checked, dewormed, up to date on his vaccinations and will be microchipped prior to adoption. Come on in and meet Sparky today.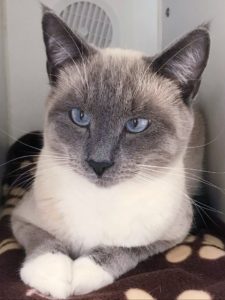 Name:
CAPTAIN
(M) –
Adoption Pending
Breed: Siamese X
Age: 1 year approx.

Colour: Grey and White
Arrived: September 23rd, 2019
I'm Captain! I'm not one for having my picture taken, but they said everyone would want to see my handsome face. My hobbies include sleeping, meowing until I've received the appropriate amount of pets for the day, and trying to venture outside. But don't worry, they will be microchipping me before I leave here. I enjoy my food but I think they may be trying to starve me here, I just checked my bowl and I can see to bottom already, someone come save me! I really don't like other cats…and don't get me started on dogs, no thank you! I'm neutered (no kittens for me thank you very much), and of course up to date on my vaccines. If you think you might be able to provide a home with unlimited boxes, a bottomless food bowl, and all the comfy beds I deserve, come meet me today!