We have a great group of dogs looking for their forever families and homes. Our volunteers are dedicated to matching the needs and personality of our dogs with your family. We want to make sure the match is perfect. Things to consider when adopting are: Time (walks, training), Patience, budget (food, spay, vaccinations, etc), and Space (home, fenced yard).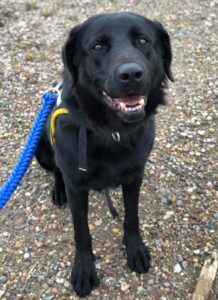 Name: PEARL (F) – Adoption Pending
Breed: Lab X
Age: Approx. 6-7 year
Colour: Black
Arrived: September 7th, 2020
Are you looking for something that resembles a black bear but far less scary? Meet Pearl! This sweet senior girl comes to us from our friends at the Hay River Animal Shelter and is now accepting applications at NLRHS. Pearl is a smart girl who knows how to sit and shake a paw! She is doing well on a leash with a little pull and enjoys getting out for walks in the fresh air. She was a great traveler in the vehicle on her trip to High Level, she would occasionally look out the window, have a nap or drop her toy on the center console waiting to play. Like a typical lab, Pearl loves chasing the ball, playing with, and chewing on her toys. Pearl is good with adults and kids. She is selective and not fond of most dogs therefore we are recommending a home with no other dogs. She has not been tested with cats. Pearl loves her food so much that she eats it super fast, so we are currently feeding her in a slow feeding bowl so can learn to slow down. If you would like to share your home with Pearl, please visit us during regular hours or call to plan for a meet and greet! Pearl is vet checked, up to date on vaccines, dewormed, spayed and ready to move into her new home. She will also be microchipped once adopted.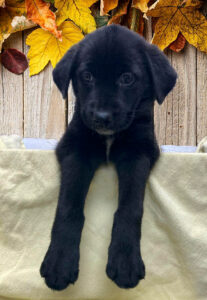 Name: MATCHA (M)
Breed: Lab X
Age: 6 weeks (October 7th, 2020)
Colour: Black
Arrived: September 8th, 2020
Meet Matcha! This happy boy is very generous with puppy kisses and is always wagging his tail. He enjoys playing with her siblings and toys, but also loves a good nap to recharge his batteries. Being a young pup, Matcha will need a home that has the time and patience to help him work on house training and teach him basic training. Fully grown, Matcha will be a large size. He would love a family that is goes for walks and enjoys outdoor adventure. Matcha is great with his siblings and with a proper introduction would do good in a home with puppy friendly dogs and cats. Does this handsome boy sound like the perfect addition to your family? If so, stop in and meet him today! Matcha is vet checked, dewormed and up to date on vaccines. He will be microchipped prior to adoption.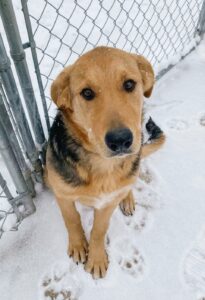 Name: MILLIE (F)
Breed: Shepherd X
Age: 5 1/2 months (October 28th, 2020)
Colour: Tan/Black
Arrived: October 23rd, 2020
Sweet Millie! Millie is a wonderful youngster who has not been with us long. In the short time she has been, we have seen just how sweet this girl is. Millie was initially scared and shy when she arrived, but she is becoming more comfortable everyday being around our staff and volunteers. She does not appear to have any issues with other dogs in the shelter, however was always recommend a meet and greet. In addition to her soft-natured personality, Millie is very smart and likes to learn for some treats. She currently knows 'sit' and has almost mastered 'down'. Millie is still unsure of some situations such as walking through a doorway or getting into a vehicle. Millie is looking for a home that will understand her fears and help her work through them within her comfort level. If you have the time & desire to work with Millie, we think she will be a lovely addition to your home. Stop in at the shelter and meet her today! Millie is vet checked, dewormed and up to date on vaccines. She will be spayed and microchipped prior to adoption.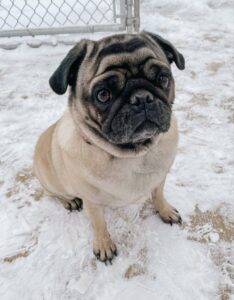 Name: WILLOW (F)
Breed: Pug
Age: 3 years
Colour: Tan/Black
Arrived: October 27th, 2020
Beautiful Willow is waiting for her family to arrive! With her deep wrinkles around her big dark eyes and beauty spots, she is sure to make you smile. Despite her short coat, Pugs do shed. Pugs are playful dogs, but they are also lovers and must be close to their humans. Willow is hoping her new home will have someone home most hours of the day as she doesn't not like to be alone. Her previous home had another dog, but they weren't the best of friends so a meet and greet would be recommended. She loves being around people and is good around kids, however they need to give Willow her space as she does not like to be approached quickly. Willow certainly think's of herself as a little Diva and we think it suits her. Willow has a hearty appetite with is common with Pugs. This has led to her being on a strict diet as she will eat any amount of food given to her and quickly grab any scrapes that hit the floor. It's very important that Willow stays on her diet to prevent future health problems unless otherwise told by a vet. While Willow enjoys going outdoors, Pugs are housedogs. They can not tolerate high heat or cold temperatures. Do you have a nice warm home where Willow can snuggle up next to you on the couch? If so and Willow sounds like the perfect addition to your family, stop at the shelter and meet her today! Willow is vet checked, up to date on vaccines, dewormed, spayed and will be microchipped prior to adoption.