We have a great group of dogs looking for their forever families and homes. Our volunteers are dedicated to matching the needs and personality of our dogs with your family. We want to make sure the match is perfect. Things to consider when adopting are: Time (walks, training), Patience, budget (food, spay, vaccinations, etc), and Space (home, fenced yard).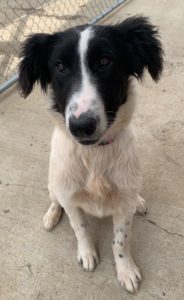 Name: WINDY (F) – Adoption Pending
Breed: Smooth Collie/Border Collie Cross
Age: 4 months approx.
Colour: White/Black
Arrived: June 26th, 2019
Meet Windy! She has the brains and the beauty! She is very lovable and it takes her no time at all to pick up commands. She's sweet and is content to do whatever her human is doing. She is by no means aggressive towards people or dogs in any way. She would do great in a home with children, where she gets lots of love and attention. All she wants to do is please people. Windy would be a wonderful addition to any family. She is vet checked, up to date on vaccinations and dewormed. She will be microchipped prior to adoption.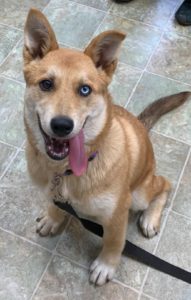 Name: KANGA (F) – Adoption Pending
Breed: Aussie X
Age: 4 months approx.
Colour: Tan and white
Arrived: June 28, 2019
Meet sweet Kanga! Kanga is super bouncy and loves to run and play, she has the sweetest disposition. Right now we are working on basic commands and she is picking them up easily. She is high energy and will require plenty of walks and of course lots of patience. She is still learning the ropes and occasionally messes in her kennel. She is great with kids and loves other dogs. She has shown interest in cats, but never any aggression towards them. Kanga has been vet checked, dewormed and is up to date on her vaccinations. Come in so little Kanga can steal your heart too.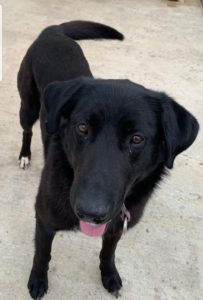 Name: HUNTER (M)
Breed: Lab X
Age: 1 year approx.
Colour: Black
Arrived: July 3rd, 2019
Meet Hunter! Hunter is a big lovable lab/collie cross. He enjoys cuddling and being the center of attention all the time. Hunter is well manned, doesn't jump up and is great around kids. Hunter requires a home with no birds (chickens, geese, ducks etc) as he does have a high prey drive. His previous home had.another dog, but we feel he would be best in a home as the only animal. Hunter is vet checked, dewormed and up to date on his vaccinations. He will be neutered and microchipped prior to joining his new family. Does Hunter sound like the perfect addition to your family? Stop in and visit him today!