DOGS AVAILABLE FOR ADOPTION
We have a great group of dogs looking for their forever families and homes. Our volunteers are dedicated to matching the needs and personality of our dogs with your family. We want to make sure the match is perfect. Things to consider when adopting are: Time (walks, training), Patience, budget (food, spay, vaccinations, etc), and Space (home, fenced yard).
Listed as Adoption Pending?  This means there has been an application submitted for the dog already. You can still submit an application, however please note there is someone ahead of you.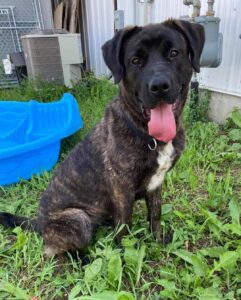 Name: MISSY (F)
Breed: Large Mixed Breed
Age: 1 year
Colour: Brindle
Arrived: June 18th, 2021
Meet Missy! Missy is a beautiful girl that is looking for a dog experienced home to teach her how to be on her best behaviour. She has lots of energy and is VERY strong. She loves kids, but could easily knock down small children. Missy responds well to the "sit" command, but she is easily distracted by the things around her. Missy is not a fan of being kenneled and is very vocal about it. She was well behaved in the vehicle to the vet and laid on the floor. Missy seems ok with other dogs with a proper introduction, but has not been tested with cats. Her previous home has told us that when she is left alone she will wander so it's best she has a spot to stay safe such as a large pen or fenced yard. This sweet girl looking for all the love and attention she can get. How could you not fall in love with the big slobbery girl. Missy is vet checked, up to date on vaccines and dewormed. She will be fixed prior to being adopted.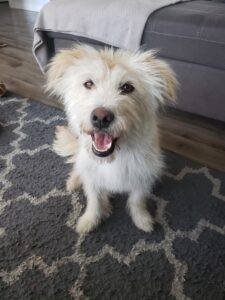 Name: MAGGIE (F) – Adoption Pending
Breed: Medium Mixed
Age: 1 year approx.
Arrived: June 23, 2021
Meet Maggie, or as we sometimes call her, Mags! Mags was found alone, covered in mats and very underweight. What have we learned about Mags? Her foster home tells us she's well mannered, affectionate, playful, quiet and house trained. She is good around strangers, great with other dog friendly dogs and with a proper introduction, good around cats. She enjoys being outside with her people while playing with her toys, chasing the ball and training for the yard zoomie Olympics and after a day of fun, she wants to be by your side for snuggles and a nap. Pets and being brushed are two of her favourite things. Maggie does shed and will require regular grooming to keep her mat free and help reduce shedding. Her first time on a leash was a struggle in the beginning, but she is now more comfortable and enjoys going for walks. Maggie is vet checked, up to date on vaccines, dewormed, spayed and microchipped. Sounds just like the companion you're looking for? Contact us today for more info.