DOGS AVAILABLE FOR ADOPTION
We have a great group of dogs looking for their forever families and homes. Our volunteers are dedicated to matching the needs and personality of our dogs with your family. We want to make sure the match is perfect. Things to consider when adopting are: Time (walks, training), Patience, budget (food, spay, vaccinations, etc), and Space (home, fenced yard).
Listed as Adoption Pending?  This means there has been an application submitted for the dog already. You can still submit an application, however please note there is someone ahead of you.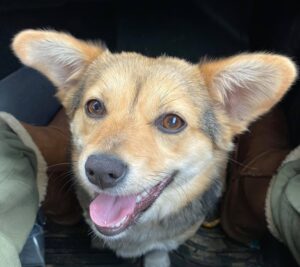 Name: PIXIE (F) – Adoption Pending
Breed: Small Mixed Breed
Age: 1.5 years
Colour: Mixed
Arrived: March 23, 2021
Meet Pixie! This small, but mighty girl is sure to steal your heart
. Pixie is super cute and we think she knows it! She will be the first one to greet you as soon as you walk in the door and roll over looking for some belly rubs. This young girl still loves to play and would enjoy a secure fenced yard so she can chase all the toys you throw for her. After all that running she loves nothing more than snuggling up close to you for a nap. Pixie seems to do well with other dogs, however we always recommend an introduction first. We are unsure if Pixie has been around cats in the past. Pixie loves all people, but gets startled if she's approached too quickly. She also enjoys going for walks and car rides. We think Pixie would be the perfect companion for a family who enjoys camping and other adventures. If you are interested in learning more about Pixie, contact us today! Pixie is vet checked, up to date on vaccines and dewormed. She will be spayed and microchipped prior to adoption.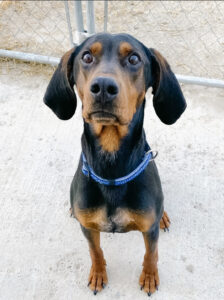 Name: JETT (M)
Breed: Hound Mix
Age: 2 years
Colour: Black w/Brown
Arrived: March 28, 2021
Meet Jett! Jett is a little anxious here in the shelter and can't wait to be in his new home. This handsome boy likes to be where the people are. He seems to be ok with other dogs but we always recommend a meet and greet with any other dogs in the household. Jett is very food motivated and eats from a slowfeeder bowl so he can learn to take his time. He is good on a leash, but some movements and noises make him anxious. Travelling in a vehicle seems to be new to him, but over time seemed to relax. Jett is a wonderful boy who just needs someone to help him learn the world isn't such a scary place. If you have the time help Jett break out of his shell and shower him with love, stop in today.  Jett is vet checked, up to date on vaccines and dewormed. He will be neutered and microchipped prior to be adopted.