We have a great group of dogs looking for their forever families and homes. Our volunteers are dedicated to matching the needs and personality of our dogs with your family. We want to make sure the match is perfect. Things to consider when adopting are: Time (walks, training), Patience, budget (food, spay, vaccinations, etc), and Space (home, fenced yard).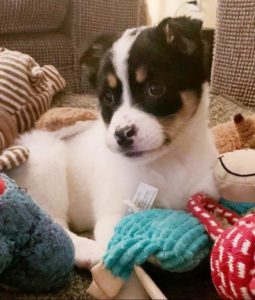 Name: WINTER (F) – Adoption Pending
Breed: Father – Chocolate Lab
Mother – Collie/Husky Cross
Age: 10 weeks (Jan 3, 2019)
Colour: White w/ Brown/Black
Arrived: December 12th, 2019
Hi my name is Winter! I arrived here with my brothers who are soooo annoying! Luckily over Christmas I had a really amazing foster family that taught me so much new stuff, they had kids who snuggled me and gave me all kinds of love. No brothers to share all my stuff with, it was great. I'm almost potty trained, sometimes I still have accidents in the house, but not very often. I'm a quick learner and I'm determined to so my best! I like to play and I would love to have toys. Other dogs and cats are super fun too! I'm also kennel trained and sleep through the night so we can both get our rest. Am I a perfect fit for your family? Winter is vet checked, up to date on vaccines, dewormed and will be microchipped prior to adoption.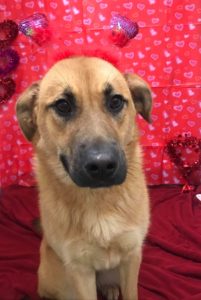 Name: LADY (F) – Adoption Pending
Breed: Shepherd X
Age: 1 year approx.
Colour: Brown w/ Black Snout
Arrived: January 16th, 2020

Hi, I'm Lady and I was found in town, lost on the coldest day of the year so far. I was so lucky to be picked up and brought to the shelter. I was scared at first, but it was warm and I had a comfy bed to sleep on. I like to take walks, and I love anyone and everything. Do you have any dog friends or cat friends for me to play with, I have made some friends here, but I would really like more. I need some leash training as I haven't been on one much but I do know some basic commands. I sit when they ask me and I am house trained. I want so badly to do the right thing and I will try really hard to always make you happy. Lady had been vet checked, dewormed and is up to date on vaccines. She will be spayed and microchipped before going to her new home.