---

DOGS AVAILABLE FOR ADOPTION
We have a great group of dogs looking for their forever families and homes. Our volunteers are dedicated to matching the needs and personality of our dogs with your family. We want to make sure the match is perfect. Things to consider when adopting are: Time (walks, training), Patience, budget (food, spay, vaccinations, etc), and Space (home, fenced yard).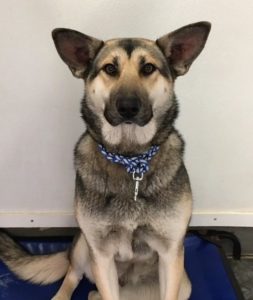 Name: MAXINE (F) – Adoption Pending
Breed: Shepard / Husky x
Colour: Tan Sable
Age: 1.5 years
Arrived: November 8th, 2017
Meet Maxine! This beauty is looking for her forever home. Maxine likes to sit on top of her dog house and watch what's going on around her. She hasn't decided to jump our fence yet but we recommend that prospective owners have a 6ft fence with nothing she can climb on to make an easy escape. Maxine gets along well with our dogs and avoids the one who doesn't like her. She is currently untested with small dogs and cats. Maxine's adoption fee includes a current vet check, up to date vaccines, spay and microchip identification.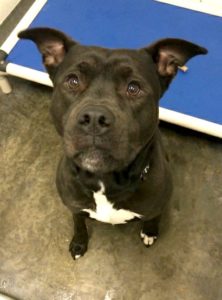 Name: COAL (M) – Adoption Pending
Breed: Pitbull X
Colour: Dark Brown/White
Age: Approx. 2 years
Arrived: March 12th, 2018
Meet Coal! This handsome guy knows basic commands like sit and lay down. He is a bit shy at first but warms up pretty quick and gives lots of love! He enjoys treats and loves to play with toys. He is a pretty laid back guy. So far he doesn't seem to mind dogs as for cats we haven't tested that out yet. Coal will be up to date on Vaccines, dewormed, micro chipped and neutered prior to going to his new forever home. Are you looking for an someone to join you on walks?  Come meet Coal today!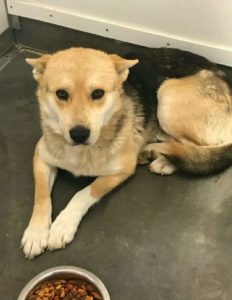 Name: GRIFFIN (M)
Breed: Mixed Breed
Colour: Black/Tan/White
Age: 2 years
Arrived: April 4, 2018
Meet Griffin! This medium size boy guy came to us afraid of the world around him. Since then he has completely come out of his shell and is full of love. He needs a little time to get to know and trust a person, but as soon as he knows you he is ready to play and loves giving hugs. Griffin loves going for walks and does not pull at all, mostly because he just wants to be right next to you at all times. He has been good around kids and loves interacting with them. Griffin has been vet checked, is up to date on his vaccines and will be neutered and micro chipped prior to his adoption. Come meet him today!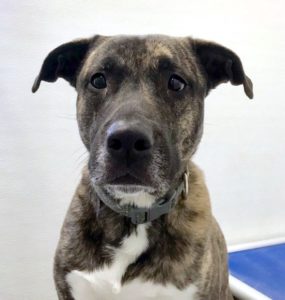 Name: DOZER (M)
Breed: Pitbull X
Colour: Brindle
Age: 4 years
Arrived: April 26, 2018
Meet Dozer! This handsome guy is looking for a family that can give him the attention he deserves. Dozer is a friendly dog who loves attention and butt scratches. Dozer can be on guard around some strangers. Dozer requires a home with children that are 13 years+. He is a big guy and doesn't know his own strength, so he's recommended for an adult/teen home. Dozer can be picky about his friends but is good with most medium/large dogs with a slow introduction. I would not recommend a home with small animals because of his size and energy. Dozer pulls on leash but is easy to handle at the vet office and travels very well. Dozer has been vet checked, up to date on vaccinations, neutered, and will be microchipped prior to joining his new family. Come meet Dozer today!


MORE DOGS AVAILABLE FOR ADOPTION in the TOWN POUND section. These animals are unclaimed by their owners and looking for a family to give them a second chance!
This list may not represent all dogs available for adoption at the Shelter as we update the site weekly. To view all our dogs, please come visit us in person and we'd be happy to introduce you to all our canine pals.
Please Note: Adoption decisions are made based on the best all-around match. We do not adopt on a first-come basis.