We have a great group of dogs looking for their forever families and homes. Our volunteers are dedicated to matching the needs and personality of our dogs with your family. We want to make sure the match is perfect. Things to consider when adopting are: Time (walks, training), Patience, budget (food, spay, vaccinations, etc), and Space (home, fenced yard).


Name: DIXIE (F) – Adoption Pending
Breed: Lab X
Colour: Black
Age: Approx. 2 years
Arrived: May 31st, 2018
Meet Dixie! This beautiful girl is the mother to the 4 puppies; Charlie, Boomer, Diesel and Oakley. When Dixie was found her ribs and hip bones where showing – she was literally skin and bones. Since then, Dixie has recovered so much since she has come to the shelter and is finally eating good food and becoming a healthy dog. Dixie is a very energetic dog. She loves attention and wants someone to play with her all the time. Dixie is also a very food motivated dog and gets along with some dogs. We are unsure if Dixie is house trained, however, she does not mess in her kennel at the shelter. Dixie is ready to find her forever home and show just how much love she has to give. If you think you are the right fit for her, please contact or visit the shelter for more information. Dixie's adoption fee includes up to date vaccinations, vet check, spay and microchip identification.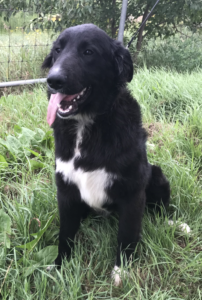 Name: ARNOLD (M)
Breed: Collie X
Colour: Black & White…
Age: Approx. 8 months (Oct 2018)
Arrived: August 7th, 2018
Meet Arnold! Unfortunately Arnold's previous adoption didn't work out and he is back looking for a home to call his own. To help this handsome boy and his future adopters, Arnold's previous adopters are covering the adoption fees and have donated his kennel, bed and some toys for him to take to his new home.
Arnold is intelligent, loyal, friendly, goofy and very lovable. He greets everyone he meets with a smile and a wag in his tail. Arnold has gotten along with all other dogs at the shelter, however we are unsure how he is with cats. Arnold is a ball of energy and would prefer an active family with or without children who enjoy outdoor activities. His ideal home would have a large fenced yard or acreage where he can run and play. If Arnold sounds like the perfect dog for you, come meet him today. We know with his smile and loving disposition he won't be here long! Arnold is vet checked, up to date on vaccines, neutered, micro chipped and ready to join his new family.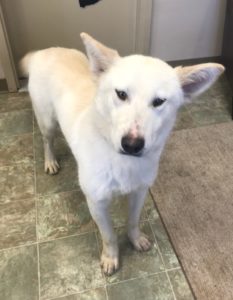 Name: DENNY (M)
Breed: Husky X
Colour: Cream/White
Age: Approx. 1 1/2 – 2 years
Arrived: September 2nd, 2018
Meet Denny!! This big boy loves to play and is looking for his forever home. Denny is approx. 1 1/2 to 2 yrs old with lots of energy. He loves to play with all his human friends and dog friends. However, we are unsure how he is with cats. Denny appears to be house trained as he does not have any accidents in his kennel throughout the night. Denny does chew and would do best in a home where he has lots of room to run! Denny will make a great addition to a home with older children or a family without children as he sometimes forgets his size. Denny will come microchipped, neutered and up to date on his vaccinations prior to adoption! Come meet this silly boy today!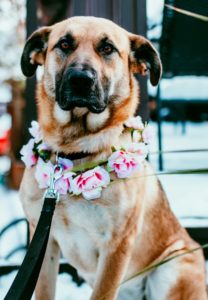 Name: LAIKA (F)
Breed: Shepherd X
Age: 9 months (Nov 2019)
Colour: Tan/Cream/Black
Arrived:  October 19th, 2019
Meet Laikia! This sweet and affectionate girl can't wait o meet her new family. Laika can be a little on the shy side when in a new situation or when first meeting new people, but with some reassurance she warms up quickly. Laika has been great with the other dogs in the shelter and around kids. We are unsure how she is with cats at this time. This girl would love a large fenced yard so she can chase the ball and enjoy the sun while out with her family. If you and your family have lots of love and attention to share with Laika, come visit her today. Laika will be vet checked, up to date on vaccines, dewormed, spayed and microchipped prior to adoption!


Name: RYDER (M)
Breed: Bull Terrier X
Age: 2 years
Colour: Black/White
Arrived: October 18th, 2019
Meet Ryder! This big guy is very sweet and looking for a home of his own. We know very little about Ryder's past; however, we know it was a rough one. Found abandoned in a house, Ryder came to us very skinny with an injured tail and he had been eating rocks. Getting healthier every day, this sweet boy will need a home that's willing to take the time to help him heal from his emotional scars. He is very loving and seeks your attention, comfort, and loves to play. We are unsure of how he will be around other dogs, and cats. Ryder is looking for a family with older children as he is very high energy and doesn't know his own size. Ryder will be vet checked, up to date on vaccines, dewormed, neutered and microchipped prior to adoption! Come meet Ryder today!


MORE DOGS AVAILABLE FOR ADOPTION in the TOWN POUND section. These animals are unclaimed by their owners and looking for a family to give them a second chance!
This list may not represent all dogs available for adoption at the Shelter as we update the site weekly. To view all our dogs, please come visit us in person and we'd be happy to introduce you to all our canine pals.
Please Note: Adoption decisions are made based on the best all-around match. We do not adopt on a first-come basis.