---

DOGS AVAILABLE FOR ADOPTION
We have a great group of dogs looking for their forever families and homes. Our volunteers are dedicated to matching the needs and personality of our dogs with your family. We want to make sure the match is perfect. Things to consider when adopting are: Time (walks, training), Patience, budget (food, spay, vaccinations, etc), and Space (home, fenced yard).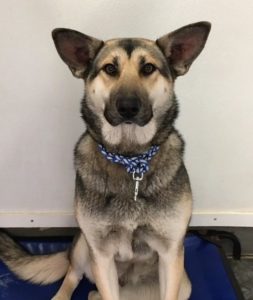 Name: MAXINE (F)
Breed: Shepard / Husky x
Colour: Tan Sable
Age: 1.5 years
Arrived: November 8th, 2017
Meet Maxine! This beauty is looking for her forever home. Maxine likes to sit on top of her dog house and watch what's going on around her. She hasn't decided to jump our fence yet but we recommend that prospective owners have a 6ft fence with nothing she can climb on to make an easy escape. Maxine gets along well with our dogs and avoids the one who doesn't like her. She is currently untested with small dogs and cats. Maxine's adoption fee includes a current vet check, up to date vaccines, spay and microchip identification.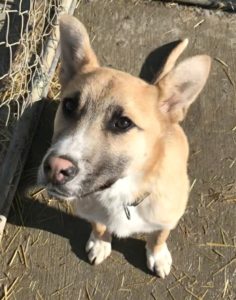 Name: CHARLES XAVIER (M)
Breed: Mixed
Colour: Tan/Black
Age: Approx. 4 months (Jan)
Arrived: December 16th, 2017
Meet Charles! This handsome little guy had a rough start in life and is looking for his forever home. *SPECIAL NEEDS* Charles was diagnosed with Contracted Tendons due to Malnutrition. As he matures Charles will eventually develop arthritis and need medication to help his joints. Prospective owners need to consider the cost of continual veterinary care before adopting. Charles hasn't let medical issues slow him down any! He's a typical puppy who loves nothing more than a good game of tug. Charles is a good boy for bath time and vet trips. He's intelligent and learns quickly but likes testing the rules. Charles is the perfect age to start training. He needs someone that can commit the time to provide him with consistent DAILY socialization and training. When Charles first arrived at the shelter he was timid and had severe food aggression. He really came out of his shell and enjoys having visitors, especially the Gr.9 students. The food aggression is much better, but he still shows resource guarding with certain chews. Charles loves playing with other dogs but is a bit of a bully, so he needs a play buddy who will correct him when he's being rude. Charles is the same way with cats and is not recommended for a cat house, unless your cat will stand up for themselves. ADULT / TEEN HOMES ONLY! Applicants with children will NOT be considered. If your interested in Charles and willing to give him the structure he needs, please contact us for more information or stop by the shelter.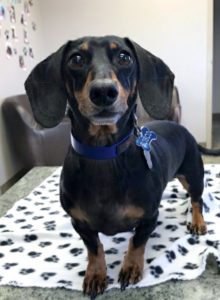 Name: BOSCO (M) – Adoption Pending
Breed: Dachshund
Colour: Black & Tan
Age : Approx 10 yrs
Arrived: February 23rd, 2018
Meet Bosco! This handsome guy is looking for his forever home. Bosco is full of energy and enjoys his toys! If it has a squeaker that's a bonus. He can be a little bit shy at first with new people but with some love & pets he will jump into your lap. Bosco hasn't had too much interaction with cats so we are unsure at this time how he would react. He is good with children and enjoys to snuggle up. Bosco will be vet checked, neutered, vaccinated and microchipped once available for adoption. *Bosco is currently in quarantine. Once completed and vet checked he will be available for adoption.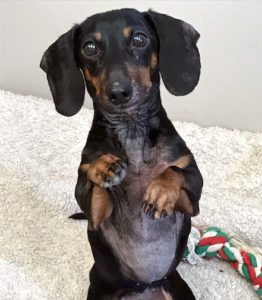 Name: LEXI (F) – Adoption Pending
Breed: Dachshund
Colour: Black & Tan
Age: DOB is March 2010 (8yrs)
Arrived: February 23rd, 2018
Meet Lexi! This little girl is looking for her forever home. This sweetheart is full of life making her not very easy to photograph; as you can see. 😊 Her food needs to be managed so, she does not get overweight. Lexi is good with other dogs and children but are unsure how she reacts with cats. Lexi will be vet checked, spayed, vaccinated and microchipped once available for adoption. *Lexi currently in quarantine. Once completed and vet checked she will be available for adoption.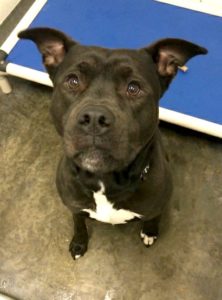 Name: COAL (M)
Breed: Pitbull X
Colour: Dark Brown/White
Age: Approx. 2 years
Arrived: March 12th, 2018
Meet Coal! This handsome guy knows basic commands like sit and lay down. He is a bit shy at first but warms up pretty quick and gives lots of love! He enjoys treats and loves to play with toys. He is a pretty laid back guy. So far he doesn't seem to mind dogs as for cats we haven't tested that out yet. Coal will be up to date on Vaccines, dewormed, micro chipped and neutered prior to going to his new forever home. Are you looking for an someone to join you on walks?  Come meet Coal today!


MORE DOGS AVAILABLE FOR ADOPTION in the TOWN POUND section. These animals are unclaimed by their owners and looking for a family to give them a second chance!
This list may not represent all dogs available for adoption at the Shelter as we update the site weekly. To view all our dogs, please come visit us in person and we'd be happy to introduce you to all our canine pals.
Please Note: Adoption decisions are made based on the best all-around match. We do not adopt on a first-come basis.