We have a great group of dogs looking for their forever families and homes. Our volunteers are dedicated to matching the needs and personality of our dogs with your family. We want to make sure the match is perfect. Things to consider when adopting are: Time (walks, training), Patience, budget (food, spay, vaccinations, etc), and Space (home, fenced yard).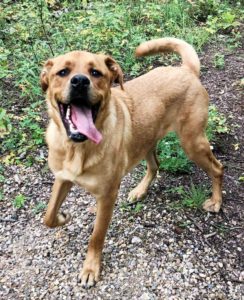 Name: ODIN (M)
Breed: Large Mixed
Age: 1.5 years
Colour: Brown
Arrived: August 24th, 2019
Meet Odin! Don't be fooled by his large size, he is a teddy bear! Odin loves going out on the trails for walks with his dog friends (adores puppies and dogs of all sizes) is well mannered, loyal, loves the water and a good chin or belly rub! He does well on a leash, but can become distracted easily which requires a bit of time and trust with one another but has great recall back to you. With his large size and high energy in mind, Odin would prefer a home with a large fenced area to roam where he can run, jump and play freely. If you are interested in adopting Odin you will not be disappointed in this friendly giant, he will be your best friend for life! Odin is up to date on vaccines, vet checked, neutered and will be microchipped prior to adoption. Come meet Odin today!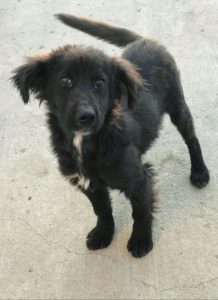 Name:
MICKEY
(M) –
Adoption Pending
Breed: Retriever X

Age: 4-5 months approx.
Colour: Black and white
Arrived: August 30th, 2019
Meet our brave boy Mickey! From day one he has overcome so much with his health and is now thriving! Mickey wants to be included in everything that you do and is looking for nothing but love. He is a sweet boy who enjoys playing with his dog friends and loves a good snuggle. Mickey can be a bit shy at first with other dogs, but loves nothing more than to be included in all the dog fun! Once Mickey has completed his treatment and the vet has confirmed the mange is gone with his skin scraping, he will be ready to join his new family. Mickey is up to date on vaccines, dewormed and vet checked. He will be microchipped and neutered (if age appropriate) prior to adoption. If you think Mickey is a perfect fit for you, come meet this brave, loving boy!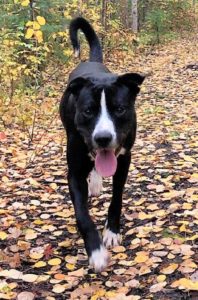 Name:
ONYX
(M)
Breed: Lab/Bull Terrier X
Age: 2 years

Colour: Black and White
Arrived: September 3rd, 2019
Meet Onyx! He was brought to us by some good Samaritans that had found him east of High Level. He was lost, limping and in pain. The vet determined he had bite wounds on his front legs that became infected. Even being in pain he was so sweet and patient with us treating his wounds. Onyx is full of energy and loves to play with toys and pull all the stuffing out of his toys. He has a routine where he comes in from outside, picks the perfect toy or stuffy to take to his kennel and rip apart. Onyx can be good with dogs but seems to prefer being the only dog. He could be in a home with another medium to large size dog, however a meet and greet prior to adoption will be required. He is not suited for a home with cats or other small animals. Onyx is house trained, smart and eager to learn He has come a long way in a short time. He's is looking for a family that has the time and patience to help him learn some basic manners and leash training. but does need work with basic commands and leash training. If you would like to come meet this big guy stop by the shelter, he would love the company. Onyx is vet checked, up to date on vaccines and will be neutered and microchipped prior to adoption.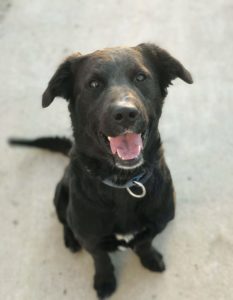 Name:
JACKSON
(M)
Breed: Lab X
Age: 1 year

Colour: Black w/some White
Arrived: September 13th, 2019
Meet Jackson! Jackson is such a sweet boy and is learning more and more everyday. He knows some basic commands but is eager to learn more. Though he can be a bit stubborn at times, his handsome face has us all in love with his goody character and silly antics. Jackson is great with other dogs, but cats are mystery to him. He wants them to like him, but he is just a little to rambunctious for their liking. With a slow introduction, it's possible he could learn to co-exist peacefully with a cat without any issues. If you enjoy walks, running, hiking, camping and other outdoor activities, Jackson would be the perfect companion to join your adventures. Jackson is vet checked, up to date on his vaccines and dewormed. He will be neutered and microchipped prior to adoption. If Jackson sounds like a good fit for your family, stop in and meet him today!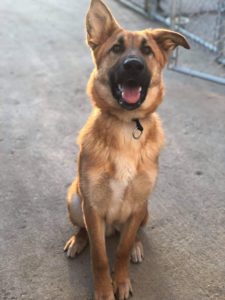 Name:
GUNNER
(M) –
ADOPTED!
Breed: Malinois X
Age: 7-8 months approx.

Colour: Tan/Fawn and black
Arrived: September 22nd, 2019
Meet Gunner! Gunner is a high energy, good listener and loyal dog! He is young but full of love and room to learn. Gunner already knows simple commands and is a fast learner. He gets along well with other dogs, but is curious about cats. With his high energy, he would be best in a home with lots of space to run, whether it's a large fenced yard or acreage and would love another dog to play with. If you think Gunner is a perfect fit for you, come meet this handsome boy! Gunner is up to date in vaccines, vet checked, and dewormed. He will also be microchipped and neutered prior to being adopted.