CATS AVAILABLE FOR ADOPTION
Find your purrrrfect cat companion! We have a great group of cats looking for their forever families and homes. Our volunteers are dedicated to matching the needs and personality of our cats with your family. We want to make sure the match is perfect for everyone.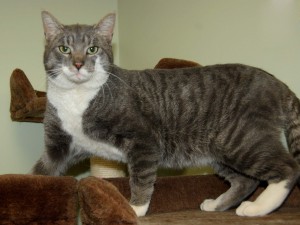 Name: SPYDER (M)
Breed: Domestic Short Hair
Colour: Grey Tabby
Age: 2 years
Arrived: November 28, 2016
Meet Spyder! This super handsome guy has a good attitude and is very friendly. He'd love a lap to curl up on and enjoys chin rubs. He is looking for a new home with a family who can appreciate his great personality and give him lots of attention. Spyder comes with his vaccinations and neutered. Does Spyder sound like the perfect fit to your home? Com meet him today!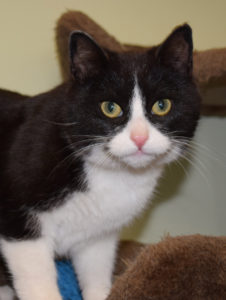 Name: MARIO (M) – Adoption Pending
Breed: Domestic Short Hair
Colour: Black w/White
Age: 6-7 months
Arrived: March 10th, 2017
Meet Mario!  Mario is a sweet and playful young boy. He will shower his new humans with lots of love and affection. One of his favourite things to do is be close to you and snuggle. Mario loves to climb on the cat tower in the playroom – he'd love it if his new family had one for him to enjoy and stay active. Mario is litter trained, up to date on vaccines and will be neutered, if age appropriate, before moving into his new home. Come meet this handsome boy today – he's waiting for you!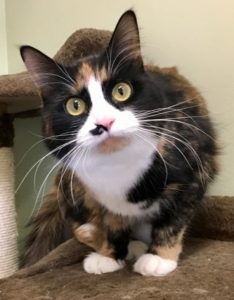 Name: KITTY (F)
Breed: Domestic Medium Hair
Colour: Calico
Age:
Arrived:  April 7th, 2017
Meet Kitty! Miss Kitty is a shy little girl who just does her own thing until she warms up to you. She loves to tell you her life story and wants lots of hugs and snuggles. The odd treat would definitely be appreciated as well. Kitty loves her little hiding places and would love to find a home of her own. If you have a warm blanket and lots of hugs and treats for Kitty, come meet her today!