---

DOGS AVAILABLE FOR ADOPTION
We have a great group of dogs looking for their forever families and homes. Our volunteers are dedicated to matching the needs and personality of our dogs with your family. We want to make sure the match is perfect.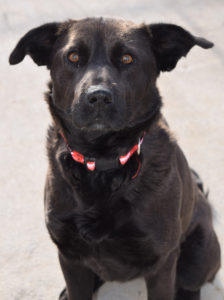 Name: JORDAN (F)
Breed: Lab X
Colour: Black
Age: 2 years
Arrived: March 24th, 2017
Meet Jordan! Jordan is a quiet little girl who likes to watch the world around her. She is friendly and laid back.We think she would do best in an active family who would include her in all the fun. Jordan is up to date on vaccines and will be spayed prior to joining her forever home. Interested in having fun with Jordan and making her a permanent part of your family? Please give us a call or email us…or stop by for a visit!


**Daisy will be available July 15th, 2017**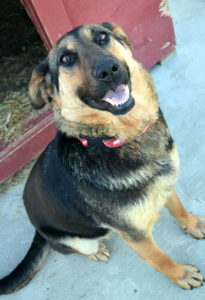 Name: DAISY (F) – Adoption Pending
Breed: Shepherd X
Colour: Sable
Age: Approx. 3 years
Arrived: March 25th, 2017
Meet Daisy! This sweet girl arrived at the shelter on March 25th after being found loose in town. Her owner never did come forward to claim her and she is now in search of a loving home. She is the sweetest girl. She's very calm, laid back and had lots of love to give. She gets along with everyone at the shelter, however we are unsure how she is around cats. Daisy does know some commands and is eager to learn more. She is up to date on her vaccines and will be spayed prior joining her new home. Does Daisy sound like the perfect addition to your family? Come meet her today!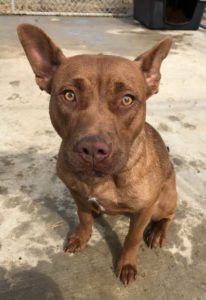 Name: COPPER (F)
Breed: Bull Terrier X
Colour: Brown
Age: 2 years approx.
Arrived: April 4, 2017
Meet Copper! Copper is a young girl that was left abandoned outside our facility. She loves people and would do good in a home with older kids. Copper is a little picky about her friends though. She seems to get along great with most males dogs, but can be cranky around females. We do recommend a meet and greet if you have another dog. We would say Coppers energy level is medium. She loves to play outdoors and chase the ball, but also loves to snuggle up beside you for some relaxing time. Copper is up to date on vaccines and spayed. If you think you are Coppers forever home, please contact us for more info or stop in and meet her at the shelter.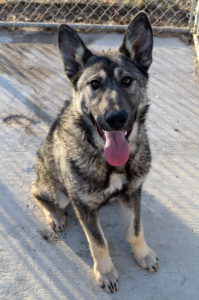 Name: TONTO (M)
Breed: Shepherd X
Colour: Brown/Black/Tan
Age: 2 years approx.
Arrived: April 13, 2017
Meet Tonto! Tonto is a handsome boy, but he's also very smart, playful and has lots of energy! Tonto is looking for an active and dog experienced home to call his own. One where he can enjoy runs, hikes, and plenty of activities. If you're up for lots of walks and playtime, Tonto's your guy! He would love a big yard, a warm comfortable place to sleep, lots of cuddles and someone who has the time and patience to help him learn. He seems to get along with most dogs however we are unsure if he's been around cats. Tonto is up to date on vaccines and will be neutered. Does Tonto sound like the guy for you? Come meet him today!


MORE DOGS AVAILABLE FOR ADOPTION in the TOWN POUND section. These animals are unclaimed by their owners and looking for a family to give them a second chance!
This list may not represent all dogs available for adoption at the Shelter as we update the site weekly. To view all our dogs, please come visit us in person and we'd be happy to introduce you to all our canine pals.
Please Note: Adoption decisions are made based on the best all-around match. We do not adopt on a first-come basis.