WELCOME TO THE

Our Mission
To protect and prevent cruelty to animals. We strive to provide homeless animals with shelter and food while attempting to place them in permanent loving homes.
Click here to learn more about the Northern Lights Regional Humane Society
______________________________________________________________
Cat Intake is currently closed at Northern Lights Regional Humane Society until we are able to find homes for our adoptable cats. The last thing we want to do is turn cats away, but every shelter has their limit and unfortunately we've reached ours. As a result of the increased number of cats, adoption fees for cats 6 months and older have been reduced. NLRHS is calling on the community for help in finding homes for these very deserving felines and is also encouraging everyone to spay and neuter their pets.
______________________________________________________________
PAWS & CLAWS 2016 RAFFLE WINNERS!
Early Bird #1  for $250.00 Cash –  JERRY ST. ARNAULT , Fox Lake, AB
Early Bird #2  for $250.00 Cash –  PHILIP TRAPTON, High Level, AB
Grand Prize 2016 Ski-doo Summitt SP – CAMERON PETERS, High Level, AB


LONGEST RESIDENT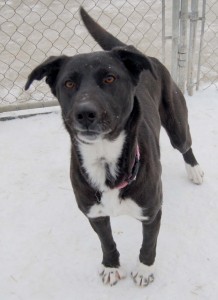 Name: MIA (F)
Breed: Lab X
Colour: Black/White
Age: 1.5 years approx.
Arrived: November 4th, 2016
Meet Mia! She is a tall, sweet girl that is on the look out for her forever family! Mia needs a family that will teach her basic commands, but she's a smart girl that will learn quickly. She would love a large fenced yard or an acreage where she can get lots of exercise and play chase the ball. Mia prefers to be the only dog in the house as she gets along with some but not all dogs. Mia is up to date on vaccines and will be spayed prior to joining her new family. Come down to the shelter during open hours to meet Mia today!

NEXT MEETING…
PUBLIC MEETING

Date & Time TBA

Thanks to the following sponsors for your continued support…
The Northern Lights Regional Humane Society is a non-profit, registered charity.
Business Number: 839017902RR0001