WELCOME TO THE

Our Mission
To protect and prevent cruelty to animals. We strive to provide homeless animals with shelter and food while attempting to place them in permanent loving homes.
Click here to learn more about the Northern Lights Regional Humane Society
______________________________________________________________
Cat Intake is currently closed at Northern Lights Regional Humane Society until we are able to find homes for our adoptable cats. The last thing we want to do is turn cats away, but every shelter has their limit and unfortunately we've reached ours. As a result of the increased number of cats, adoption fees for cats 6 months and older have been reduced. NLRHS is calling on the community for help in finding homes for these very deserving felines and is also encouraging everyone to spay and neuter their pets.
______________________________________________________________
PAWS & CLAWS 2016 RAFFLE WINNERS!
Early Bird #1  for $250.00 Cash –  JERRY ST. ARNAULT , Fox Lake, AB
Early Bird #2  for $250.00 Cash –  PHILIP TRAPTON, High Level, AB
Grand Prize 2016 Ski-doo Summitt SP – CAMERON PETERS, High Level, AB


LONGEST RESIDENT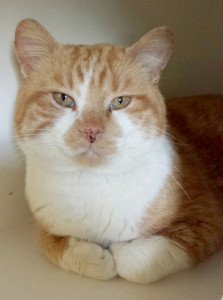 Name: GOURD (M)
Breed: Domestic Short Hair
Colour: Orange/White
Age:  2 Years
Arrived: September 27, 2016 
Meet Gourd! This handsome boy was brought to us as a stray and is now hoping to find his new forever home. Gourd is incredibly calm, gentle and loves nothing more then some good old fashion attention. He's hoping his new family has lots of love and attention to give. Gourd is litter trained and good with other cats. He is up to date on vaccinations and is neutered. Gourd is ready for his new family to come meet him. If you think Gourd would be the purrfect fir for your home, come meet him today!

NEXT MEETING…
PUBLIC MEETING

January 2017, Time & Location TBA

The Northern Lights Regional Humane Society is a non-profit, registered charity.
Thanks to the following sponsors for your continued support…