WELCOME TO THE

Our Mission
To protect and prevent cruelty to animals. We strive to provide homeless animals with shelter and food while attempting to place them in permanent loving homes.
Click here to learn more about the Northern Lights Regional Humane Society
---
LONGEST RESIDENT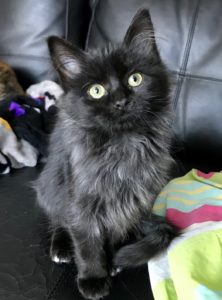 Name: RUNTY (F)
Breed: DLH
Colour: Black
Age: Approx. 6 months (December)
Arrived: June 27th, 2018
Meet Runty! Runty is one if the most stubborn and persistent cats! "Where there's a will there's a way" is the perfect mantra for this kitten. She can't get on the couch, but will come and scratch on your leg when she wants up for cuddles or a nap. Runty loves to be brushed and her long hair is finally starting to come in so she looks cute and a little scraggly right now. Runty likes to be under your feet all the time and because she's so tiny, her foster home has been getting good at shuffling around the house because don't want to step on her. Runty is healthy, but due to her small frame, she would like a home with no young children or hyper dogs/cats as they don't know their own strength and would be too rough on her. Runty is up to date on vaccines and ready to meet her new family!
---
Discover your dog's unique DNA
---
---

NEXT MEETING…
To be posted at a later date
---

Thanks to the following sponsors for your continued support…
The Northern Lights Regional Humane Society is a non-profit, registered charity.
Business Number: 839017902RR0001